The results are in!
Out of the 36 inspirational tree planting and rewilding projects on the FFN map, here are the five that people wanted us to highlight following the 2020/2021 planting season. Such fantastic, hardworking groups and projects throughout. Click the links below to find out more.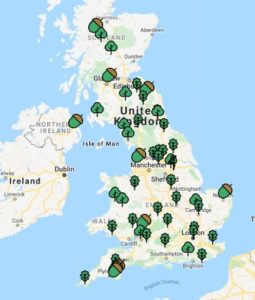 Excellent work Darlington Forest Project! Receiving the most votes, they really deserve some acknowledgment for creating so many opportunities for people to get involved this season!
Here are the groups and projects chosen:
STUMP UP for TREES in the Brecon Beacons
Moor Trees in Devon
Restoring Hardknott Forest in Cumbria
Colne Valley Tree Society near Huddersfield
Thanks everyone for showing your support by taking part in our Facebook poll.
None of these volunteers plant trees to win prizes but in this case there is a bonus for being at the top of the poll! Darlington Forest Project wins eight complimentary tickets to Westonbirt, The National Arboretum (well worth the journey, once allowed).
Each of the above groups has been invited to acknowledge one of their volunteers as an example of the many great characters out there getting stuck in, all around the UK. We will hopefully learn a bit about how they contributed, why they're so great and get inspired by them.
Thanks to Westonbirt, The National Arboretum for the generous donation and support.