By John Hodgson
About 18 months ago, after 20 years teaching in primary schools, I came up with a cunning plan to have a year off work and see if I could spend most of it in Scotland working with Trees for Life.
Sure enough,last August saw me driving up to TfL's Dundreggan Conservation Estate to start three months as a volunteer. I love it when a plan comes together. I'd packed all my outdoor gear and my favourite teddy, watered the plants and mowed the lawn. It was time to go. On one of my stops on the drive north I sat overlooking a beautiful loch enjoying the view and saying "well done me" to myself (don't worry, there was no-one listening). It definitely felt like I was doing the right thing.
I'd been to Dundreggan before as a Conservation Week volunteer, and subsequently to complete the training to lead these weeks. So I was looking forwards to spending a much longer time there,and learning more about the ecology of the area and practicalities of running a conservation estate.
The first day involved helping with an otter survey (not the first, or the last time this year I'd spend looking out for various poos in various locations). Three months later, on my last day at Dundreggan, I was working in the tree nursery sorting and storing hazelnuts for future propagation. In between, our tasks were many and varied, and always interesting. There were no 'typical days', which is a shame as that would have been a useful device for writing this article. Some of our tasks included tree planting, non-native tree removal, feeding the boar and gathering data on tree regrowth. I also particularly enjoyed the job (helped by volunteer coordinator, Tony) of introducing visiting coach tour groups to the work of Trees for Life. A fantastic way to talk to people who were completely new to the ideas of rewilding and conservation.
During this period the accommodation was a small shared cottage at Dundreggan.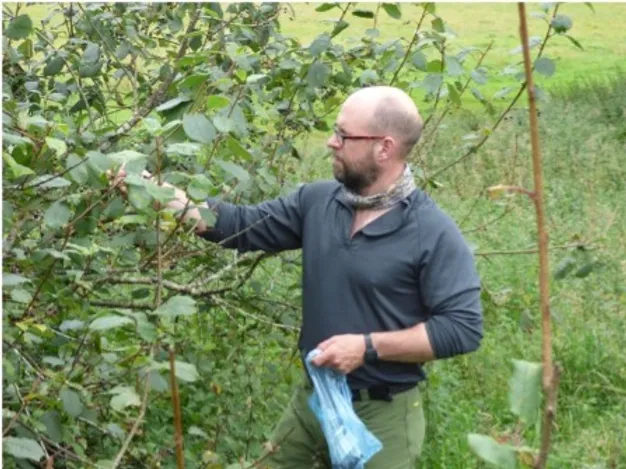 There were up to 5 of us staying there at any one time. We shared household duties and cooking and there was no television or wifi. Depending upon your perspective (and maybe your age),that might sound either idyllic, or a little scary. But the simple experiences of living there were some of the best memories I have of the past year.
We had some classic evenings outside around the campfire discussing music or our favorite comedy programs, and sometimes even environmental issues. On special occasions we enjoyed a fireside dram, and since we were there during the deer rut we were often surrounded by the calls of bellowing stags.
The end of the season was approaching, so it was time to get home for a while, I suspected the lawn needed mowing again by now if nothing else.
But before too long the Spring season of Conservation Weeks was underway. For the next part of my year with Trees for Life I would be running alternate volunteer weeks at Dundreggan.
The basic tasks of a conservation week are generally similar. We were planting trees in a planting site at Allt Ruadh and working in the nursery, along with a few less common tasks such as marking deer fencing (to make them more visible to birds such as black grouse). I had enjoyed using trail cameras whilst volunteering at Dundreggan earlier in the year, and several volunteers were interested in helping me set up and use them during conservation weeks. We filmed and photographed the local pine marten and deer amongst other beasties. On one of the mid-week days off we took a drive to a more remote part of the estate and spotted a golden eagle. Another highlight (admittedly mainly for me) included introducing the volunteers to the Dundreggan rope swing ("use at your own risk, at least 90% safe" was my constant mantra).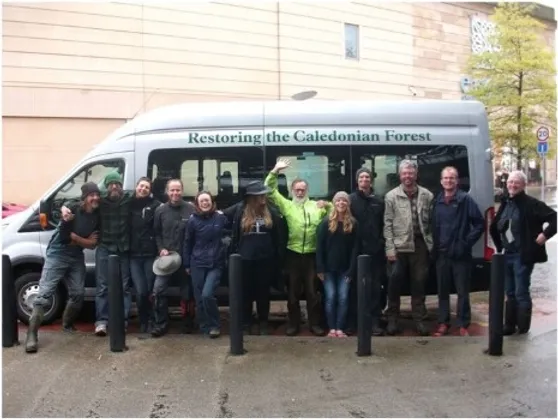 This spring also saw the second year of "Project Wolf", with "human wolves" roaming around at night to discourage deer from browsing in our regenerating woodland. We even had the wolves around for tea some nights, which went surprisingly well, but don't let them borrow your guitar; I think it's their claws that are the problem. Some of the volunteers were able to take the opportunity to become part of the wolf pack on a late night (or even overnight) prowl. I joined in one night too...
I'm back home now and contemplating going back to work. I feel lucky to have learnt and experienced so much this year and to have met so many great volunteers and Trees for Life staff. I'd do it all again if I could...