The parish pump, Cumbria - Nov 2018
A couple of months ago a friend and I were walking in a very sunny Duddon Valley, up above Wallabarrow and we happened upon the most wonderful area of juniper, birch, holly... and an absolutely stunning richness and diversity of wildflowers. But, most arresting, was the all pervasive insistent buzz and hum of insects – just like we both remembered from our very different childhoods.
Shortly after this walk, here in the Parish Pump I spotted an advert for volunteers to help with a rewilding project in Hardknott Forest. It was like a wake-up moment and, in contrast to most of my life I felt I had to get involved even if I'm not exactly a woodsman or a gardener or anything very handy really.
Early days but working with good knowledgeable (and patient) people has been both educational and fun. Numbers on working parties vary – when there are less, there is a feeling slightly more of ownership and when there are more, a satisfaction at the amount of land we can clear of all the regenerating conifers to allow the native species to grow and flourish. And now when I walk past those areas we have worked on, I do feel different and I find myself scouting for overlooked conifer activity and even better, glossy balls of healthy holly or thriving young birch saplings – and checking on those baby oaks we planted along the track sides. I almost sound like I know about trees!! Maybe this time next year...
There is plenty to do – whole areas of conifers have been cut and are not going to be replanted – and the Forestry Commission are keen to facilitate the return to their natural state. If you would like to find out more or to be involved please contact John Hodgson.
The parish pump, Cumbria - December 2018
Rewilding to restore the natural woodlands continues apace up in Hardknott Forest above the Duddon. 2019 is the fifteenth anniversary of the project in partnership with the Forestry Commission and the ante has been truly upped - from the early years of two or three volunteer work parties annually to twice a month plus....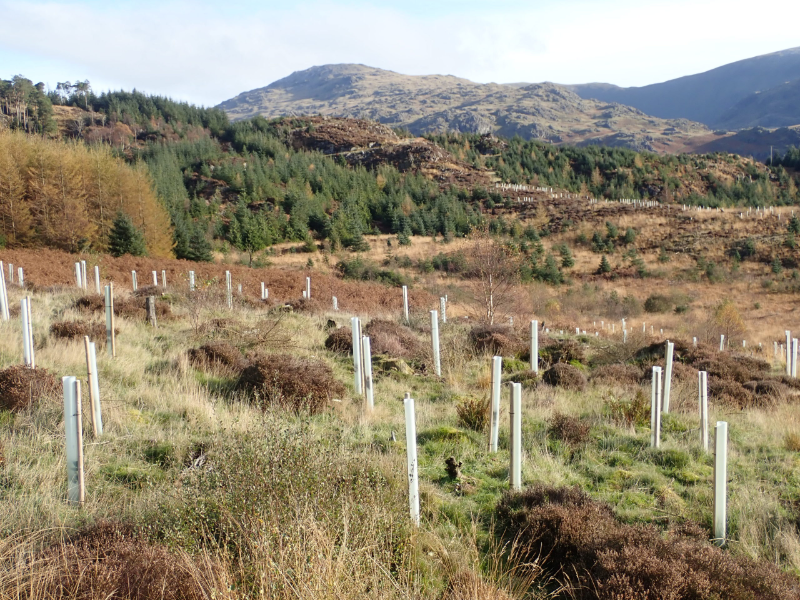 The appointment of John Hodgson as a Project Officer has ensured direction and effectiveness – it really helps when tools are kept sharp so that felling a sapling feels like slicing cheese and when all the work is coordinated so progress is immediately obvious. Very satisfying! And there is funding to maintain John's role over the next two years so all very very good.
As well as the regular graft sessions (every 2nd Sunday and 4th Tuesday of each month) and the bi-annual residential working weekends, there have been and are planned work parties for the National Trust, Universities of Lancaster, Leeds and Cumbria, Millom School and other local school groups. And also later this year, corporate and workplace groups are planned. Without doubt there will be other opportunities too.
To give you a flavour of what we do – we plant some new trees particularly oak but it is mainly about letting Nature take its course. We do chop down small Sitka spruce trees left after the Forestry Commission has extracted the timber and root up baby ones – every last bit has to be cleared to below the ground surface because they are strong, persistent beggars and will grow back to crowd out the native trees such as holly, birch, oak, juniper.. which need light and space to thrive. We shelter the native saplings already finding root by building protective piles of brash around them – keeps the deer off too. We work in line covering the ground thoroughly with plenty of time to enjoy the air, the beauty, craic and tea breaks. Totally different from 'normal' life and totally satisfying. A great leveller.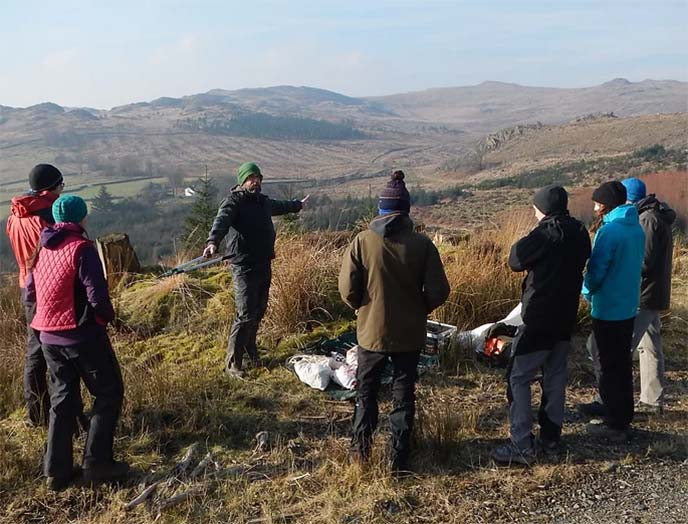 And then there are other surprising diversions – rounding up Herdwicks with the local farmers – rescuing dead or dying cars, checking the wildlife cameras – So all very exciting...
There is an article about the project in the March edition of Cumbria Magazine- and if you would like more information or to join a work-party then contact John (details below).
Click here for more on the project - Restoring Hardknott Forest.